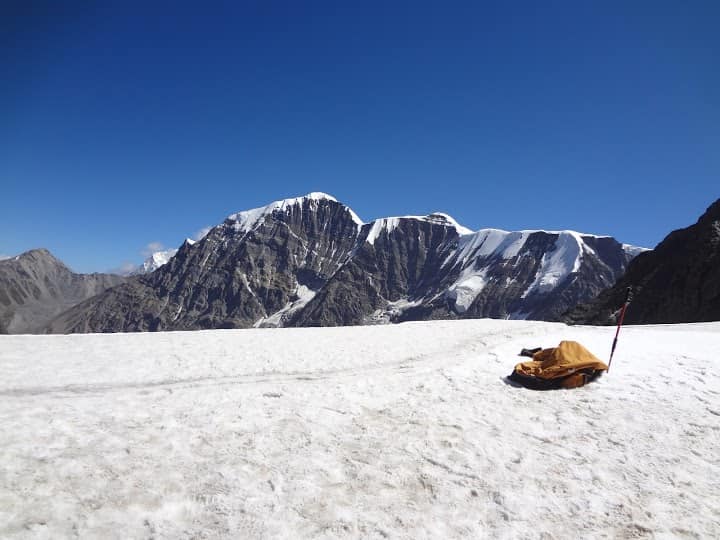 Ronti Saddle Trek is a beautiful and challenging trek located in the Chamoli district of Uttarakhand, India. Here are some unique things about the Ronti Saddle Trek:
Panoramic Views: The trek offers stunning panoramic views of the surrounding Himalayan peaks, including Nanda Ghunti, Trishul, Chaukhamba, Kamet, and Dronagiri.
Glaciers and Waterfalls: The trek passes through several glaciers and waterfalls, including the Ronti Glacier and the Satopanth Glacier. The Vasudhara Waterfall, located near Mana Village, is also a popular attraction.
Spiritual Significance: The trek passes through several religious sites, including the Badrinath Temple, the Mana Village (the last village on the Indo-China border), and Satopanth Lake, which is considered a holy site for Hindus.
Adventure Sports: The trek offers opportunities for adventure sports like rock climbing, rappelling, and river rafting.
Wildlife: The trek passes through the Nanda Devi National Park, which is home to a variety of wildlife, including the Himalayan black bear, snow leopard, musk deer, and bharal (blue sheep).
High Altitude Trek: The Ronti Saddle Trek reaches an altitude of over 17,000 feet, making it a challenging trek that requires good physical fitness and acclimatization.
Off the Beaten Path: The Ronti Saddle Trek is located in a remote area of Uttarakhand and is less crowded than other popular treks in the region, offering a peaceful and serene environment for trekkers.
Ronti Saddle in Uttarakhand is a perfect destination for adventure seekers, nature lovers, and those seeking spiritual enlightenment. The trek offers a unique combination of breathtaking views, spiritual significance, adventure, and wildlife, making it a must-visit destination for anyone interested in exploring the Himalayas.